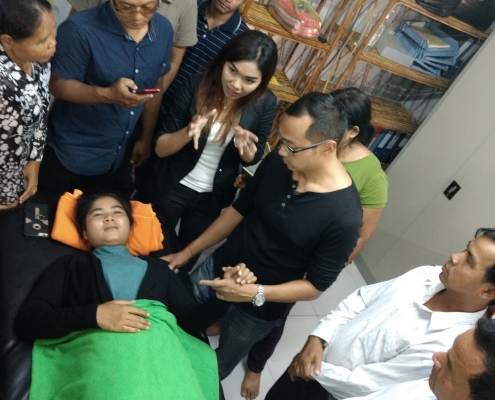 Rotana was born in Australia after his parents fled the Cambodian Genocide of the late 1970's.
He has had an interest in working with the human body for the last 16 years. In 2014, he earned his latest qualification completing the Bachelor's of Health Science in Clinical Myotherapy at SSNT & has taught at various tertiary institutes most recently at Victoria University.
In 2014, in partnership with fellow SSNT alumni Susan Nichols, they created the Clinical Myotherapy Group which operates two myotherapy clinics located in Elsternwick & Port Melbourne.
In 2016, Rotana was offered the opportunity to travel to the Philippines & Cambodia to help Hands On Health Australia inspect the Sustainable Teaching & Training Programs operating in each country.
"When I arrived in Cambodia to observe the classes, I was really taken aback by what I saw.  I was just showing the lecturer some basic techniques. It wasn't until I looked up that I realised the whole class had stopped what they were doing to watch. I could see the enthusiasm and curiosity in their eyes and it was palpable. It was then I realised how hungry they were for this information and starting to see how badly services in physical health were needed. With continued training & support, Cambodian people could be given the opportunity to improve the level of the physical therapy in the country thereby helping improve the level of health & health education in their communities."
In 2017, he made the move to Phnom Penh to help provide continuing education for graduates of HOHA programs and also develop volunteer programs for health practitioners to visit & provide their skills to the most disadvantaged groups that would benefit the most from their knowledge.
"I was lucky enough to be born in the country I was & given opportunities that others from my country of heritage weren't. With the opportunities & education I've been fortunate to have been given, it feels natural to want to use those skills to help improve access to health services and health education in Cambodia. It also makes sense to invite my friends over from my country of birth to help those in my country of origin."