"I'm Sreypouv Tan, Myotherapist Cambodia. I live in downtown and I was born in family who have peoples suffered a lot of physical pain. My grandfather from my father, I saw him lain on bed for several years till he passed away. And I knew that no one can help him feel better beside took cared of him while he can did nothing. And my grandfather from my mother also suffered much pain. He always asked me to put my foot stepped on his body almost every day when I was a little girl. I was not understand what happened to him at all. I just saw his face very sad and groan some time when he moved his body. When I look back to those situation, I'm very upset and imagine that if my both grandfather present now, they will not too suffered I can help him better than a little one, the same me but different. Till now , I never forget the groan sound of my grandfather. 
It seems to remind me to do some things for those people who suffer with physical pain. 
In October, 2015 I had joined event with New Life Church and I heard about Biomechanical Therapy (myotherapy) from Hand On Health Australia project. I had no idea at that time and it was the first time I heard about it. And it's not strange because it just not only me who didn't knew but most people in Cambodia. Even I didn't knew.  But I was interested because of word therapy = treatment = help people. It caught my heart even in the first time I heard.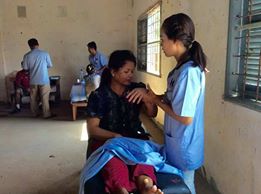 So I had started to applied to learned in February, 2016 and I graduated in February, 2017.  I'm very appreciated and enjoyed so much with that program training because we're not just worked in class but we also went to provinces some time for community treatment. I always learned a new thing and received different experience from different parts of people in other communities. I can say, life is not easy but the more you give, the more you receive, the you help the more you happier.
For that, I never forget to thank you to Myotherapy project from Australia who did a great job for our graduated students who will raise awareness and spread myotherapy treatment to Cambodia peoples that they can be known and get new experience which they never have before. And thank you to Mr. Chris O'Campo and Mr. Rotana Cheng who do a hard working for our students. And Thanks to other people who facilitated this program."
Sreypov continues her contribution by helping to provide complementary treatments to disadvantaged groups & facilitating our volunteer groups.
You'll get to meet her & ask her questions as a member of our volunteer group.