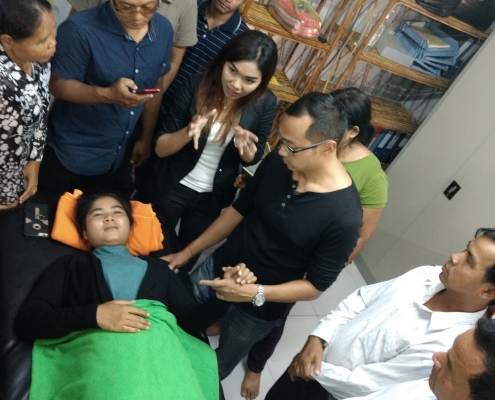 "I was just showing the lecturer some basic techniques. It wasn't until I looked up that I realised the whole class had stopped what they were doing to watch. I could see the enthusiasm and curiosity in their eyes and it was palpable. It was then I realised how hungry they were for this information and starting to see how badly services in physical health were needed." 
The vision for this project started in January 2016. 
At this time, Rotana, a clinical myotherapist & university lecturer, was sent away by Hands On Health Australia (hoha.org.au) to visit their international sites. One of those training sites was located in Phnom Penh, Cambodia, a previously war torn country from which his family had fled from many years before. 
He was there to evaluate the STTEP (Sustainable Training Teaching Employment Program), a program designed to teach basic myotherapy training as well as community welfare services such as first aid, primary healthcare, sanitation, nutrition, advocacy and social care training.
During the course of supervising training, he found himself inadvertently teaching new techniques to the class and was immediately taken aback by the enthusiasm that the students had for their training. He also discovered the need, especially after speaking to several GP's that stated that the number of gastric ulcers & digestive problems were on the rise as people dealt with pain through oral pain medication.
In 2017, he moved to Phnom Penh with two goals in mind. 
Firstly, to create opportunities for international health practitioners to share their knowledge & skills helping provide services to marginalised & disadvantaged groups.
"I was lucky enough to be born in the country I was & given opportunities that others from my country of heritage weren't. With the opportunities & education I've been lucky to have been given, it feels natural to want to use those skills to help improve access to health services and health education in Cambodia. It also makes sense to invite my friends over from my country of birth to help those in my country of origin."

Secondly, to create sustainable long term improvements to physical health care & access to services to all Khmer people.
We do this via:
CREATING ACCESS TO HEALTH SERVICES  FOR DISADVANTAGED GROUPS
Our Khmer therapists participate in mobile treatment clinics offering complementary physical health services to the most disadvantaged groups in the poorest areas of Phnom Penh
Providing continued education & opportunities for training workshops of physical health practitioners to  further improve the industry to an international level & improved access to quality care
Developing vocation programs for the visual & audible impaired allowing them to become financially independent & contribute to the health of their community
Provide permanent positions for full time therapists & trainers to provide both complementary physical health services & administer our training programs
In the long term these programs, will help to fund the development of a Sustainable Social Enterprise Clinic, designed to provide long term employment, education and provide ongoing support & mentorship to local Khmer physical therapists.
"With continued training & support, Cambodian people could be given the opportunity to improve the access & quality of physical health services in the country thereby helping improve the level of health and health education in their communities."