After 4 hours in a bus, full of enthusiasm and treatment tables, we arrived at our destination in Kompong Thom, a province midway between the capital of Phnom Penh & Siem Reap.
Working with our local team of medical GP's from our partner organisation One-2-One, our 7 volunteer therapists (6 myotherapists & an osteopath) would treat over 200 patients with various musculoskeletal conditions. These were patients that would not have been able to access our health services due to the lack of such services existing in the country or a lack of financial resources.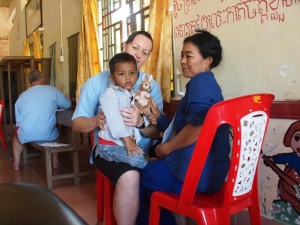 There were many touching moments & everyone had their own special memories from the treatment camp. 
One was with our youngest patient who was under 10. He was initially very hesitant and it wasn't until his mother bribed him with 1000 Riels (25c) that he agreed to be treated for his chest discomfort. 
Another fond moment that was experienced was treating a patient and then the following day meeting her 81 year old mother and treating them too. She spent the whole morning walking in 38°C heat to get to our treatment camp.
It was amazing the lengths people would go to to attend our clinics and made our work that much more important knowing how far people would travel to see us. They showed such gratitude and warmth to our team and it was special to be able to assist them & help provide health education to improve their future outlooks.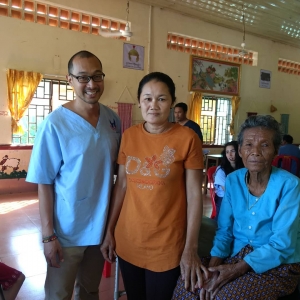 An integral part of our trip was our locally trained therapist Sreypov Tan. A fundamental part of the volunteer trip was to provide her, and other therapists like her, with as much training as we could so that her skills could improve and she could continue to service the communities after our time in the provinces had ended. With further education & training to her and the greater community we can help improve their capacity & health for many years to come.
After a long, eventful, educational and emotional five days of treating a large number of patients and living the rural Cambodia lifestyle, we were on our way to Siem Reap to visit other partner organisations & explore the temples of Angkor Wat.